All week since learning we were celebrating St. Michael and All Angels, I've had the same refrain stuck in my head:
"I need angels, I need angels
I lost my wings, can't fly
Save me with grace
I need angels, I need angels
I lost my wings, can't fly
Give me some faith."
This is from a song by the all-Indigenous roots-rock band, Midnight Shine. The singer, Adrian Sutherland of the Attawapiskat First Nation, wrote the song "I Need Angels" after returning home after his annual spring hunt and discovering there had been a rash of suicides and suicide attempts among the children and young people in the village – almost one per day in the month he had been gone. This is a familiar story in Indigenous communities that exists alongside other manifestations of intergenerational trauma. Suicide rates for Indigenous youth are 5 to 7 times higher than non-Indigenous youth. Among the Inuit, one of the northernmost Indigenous groups in Canada, they are some of the highest in the world at 11 times the national average.
Adrian is candid about his mixed feelings about the song, saying that talking about the issue in the wake of the song's release is incredibly draining. But then, he says, he will receive a note from someone who talks about how much the song has touched them, or saved them, and it helps him keep going.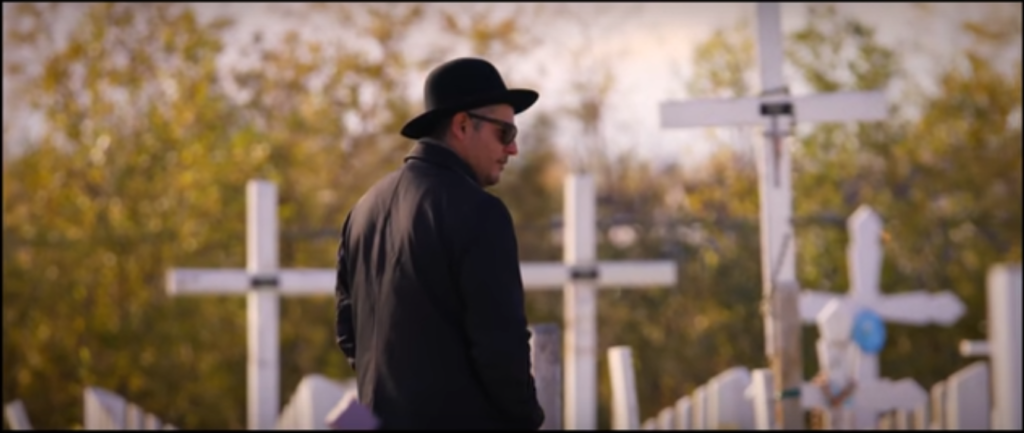 He sings, "There's a sadness inside of me no one can see / I don't know how to run away or break these chains / It's a darkness I don't want taking my light / it won't leave me alone like a dark shadow / I need angels, I need angels."
I mention all of this because newly consecrated Archbishop Mark Macdonald of the self-determining Indigenous Anglican Church and the Anglican Church of Canada put out a call on September 24th for the church to observe four days of prayer, from September 27th to September 30th, which is Orange Shirt Day. On Orange Shirt Day, we remember the children who never came home from residential schools because they died there, or, like 12-year-old Chanie Wenjack, died trying to escape. Tomorrow, at 10am EST, the National Centre for Truth and Reconciliation in Ottawa will read the first known names of children lost to the schools at the Canadian Museum of History, for the first time. All Anglican churches across Canada have been asked to remember these children in prayer at their Sunday service today.
A message from the church to the children who didn't return home runs as follows,
"Our dear brothers and sisters: We have missed you being with us, so very much and for so long. There have been times when we have cried in loneliness for you. We have felt hurt and pain, thinking of your suffering. There have been times when we cried to God for you and for justice. Now, we join together to surround you with our very best thoughts and prayers, praying for you and for the very best for you. We also pray for ourselves, who miss you so, and for the Land, that needs God's healing. We pray that you would be at rest and peace. We remember you now. We will always remember you."
There is, of course, a link between these lost children and those lost to suicide. While it is so important to remember the church and state's sins of the past, we must not believe that the work is done. Indigenous children are also twice as likely to be apprehended by the Ministry of Children and Family Development as non-indigenous children. In one notable case from earlier this year, a newborn infant was seized by family services from the hospital in which it was born. The officers claimed neglect, because the mother was not present with the baby. This was because she was recovering from the anaesthetic from her C-section. There are so many Indigenous children in care that the government cannot even find housing for all of them, and so sometimes teenagers have been housed in hotel rooms alone for months at a time. The work of reconciliation will be the work of many generations, for the damage done was done over many generations.
So what does all of this have to do with angels and Jacob's ladder?
Most of you may know that the word "angel" means "messenger." We get our English word from the Greek word "angelos." The word the Hebrew Bible uses is "malak," the same word used for human messengers, but we know that angels are different because of the reactions people have to them in the text. The first thing most angels say upon seeing a person is, "Do not be afraid," which suggests they must be rather frightful, but sometimes they are simply described as "men," like the three guests who approached Abraham at the Oaks of Mamre, or the visitors hosted by Lot at Sodom. Again, we only know they are more than men by the reactions of those who see them: in those cases, extreme hospitality, suggesting that both Lot and Abraham recognized they were more than mortal.
Midnight Shine singer Adrian calls on angels to save him from the dark shadow of depression. Their connection to the divine as messengers of God's favour makes them a fair candidate for this role. Gabriel is a herald of God's incarnation among us, and angels are also heralds of Jesus' resurrection, surely the best news creation has ever received. They bring hope for the future. In this way, we can see how the Indigenous children we remember today have become angels, in that they call us from beyond death to create a Kingdom on earth where no child from any language, people, tribe, or nation, will ever be unloved.
But perhaps the greatest news about angels is that they can exist among us without being seen – until we do see them, and like Jacob and Nathanael are filled with awe. Surely all of us have experienced one of those moments when a person suddenly made us turn our head quickly to search for a halo, or when our heart caught within our ribcage because we thought we heard the ruffle of unseen feathers in a holy place.
It's one thing to discover angels among us. It's something else entirely to actively search for Bethel.
Adrian in his vulnerability called out his need for angels…but in doing so, surely for some people he became an angel, speaking his own truth to provide a holy space for others to seek peace.
What would it look like for each of us to go forth from this place today on the hunt for Bethel? And what would it look like to consider that sometimes, perhaps without our knowing, Bethel is within us? Maybe within us there is a stone waiting to be consecrated in an early dusk, a stone which is really more like the foot of a ladder, upon which angels ascend and descend, using us to run wild over the earth?
I'll close with a prayer for the children who didn't return home, angels calling out that the Creator is love, has always been love, and wants the world to be charged with love for all children, in all places.
"Almighty God, we remember before you all of the children – our dear relatives – who did not return home from the Residential Schools. May you remember their suffering and pain. May you grant them rest in the Land of Peace. May you surround them with beautiful and sacred love and joy. We pray to you also for ourselves and our children. At a time like this we remember we need your Spirit so very much. We pray to you, your Spirit prays through us, in the Name of Jesus, who suffered with us but raised us and will raise us with our departed loved ones. Amen."